Took you long enough. But seriously, good move Marvel. Also, great timing. Not only did your story come out on a fairly slow news day (just like when Cap's death hit), but demand should be fairly high now that many of the major torrent trackers have gone belly up.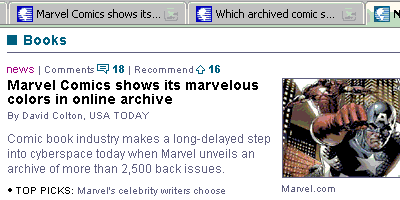 Above is part of what greeted me when I went to USATODAY.com. Way to go with the national press, Marvel.
USA Today ran the feature article announcing Marvel Digital Comics Unlimited
, while
CNN carried a piece from the AP
that had an odd focus on DC Comics and MySpace despite the fact that the story was about Marvel Comics.
There was even
a piece on USA Today featuring Reginald Hudlin
suggesting what comics he would read first. For me, it was great. I love Hudlin's Black Panther series and I was pleased to see him get a shot at recommending his favorites.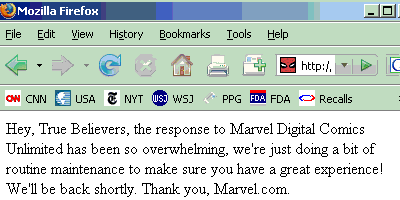 Above is what happened when I tried to follow a link to
the Marvel.com page previewing the first appearance of Dan Slott's new Liberteens team
(it's the Initiative team out of Pennsylvania so of course I wanted to see my home state represent!). It looks like the demand is way higher than Marvel expected. That's awesome.
I'll probably give the subscription a shot for a month. It's a tough choice for me though because I'm in the comic shop every Wednesday and I've read a lot of the issues they've just posted. For me, it all comes down to the quality of the viewing experience. If they're easy to read and they look good, then I'll try out Marvel Digital Comics.